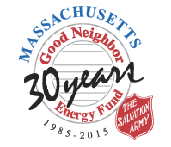 Now in its 28th year, the Massachusetts Good Neighbor Energy Fund has provided energy assistance to hundreds-of-thousands of residents in temporary crisis who are struggling to pay their energy bills and do not qualify for federal or state energy funds.
"This Fund really helps the people who might otherwise not be served, mainly the working poor of Massachusetts," says Major David E. Kelly, Divisional Commander of the Massachusetts Salvation Army which administers the Fund. "Without assistance from the GNEF, many of the people we serve wouldn't be able to make their monthly utility payments."
A cooperative effort between sponsoring Massachusetts energy companies, The Salvation Army and caring neighbors throughout the Commonwealth, the Good Neighbor Energy Fund has raised over 18.3 million and assisted nearly 80,450 households with a month's energy expense since its inception in 1985.
Massachusetts Good Neighbor Energy Fund 2012-2013 Sponsor Energy Companies:
Fund Temporarily Not Accepting Applications Due to Lack of Funds

Unfortunately, as of Tuesday, March 5th, the Fund has placed a temporary freeze on accepting applications for assistance. This is due to contributions not keeping pace with the significant increase in applications this winter. While the Fund is temporarily closed to any applicants, once enough donations are received to satisfy the backload of applications already taken, it plans to open up again and renew the application process. Thank you for your understanding.